Hallmarks of Organizational Ambidexterity
If you are a frequent reader of my posts, you may know we've been relentlessly highlighting the importance of organizational ambidexterity as vital requirement for modern dual corporate innovation approaches. Managing today's business and creating future's business successfully at the same time is probably the most demanding, yet indispensable challenge for future-proof organizations and their leaders.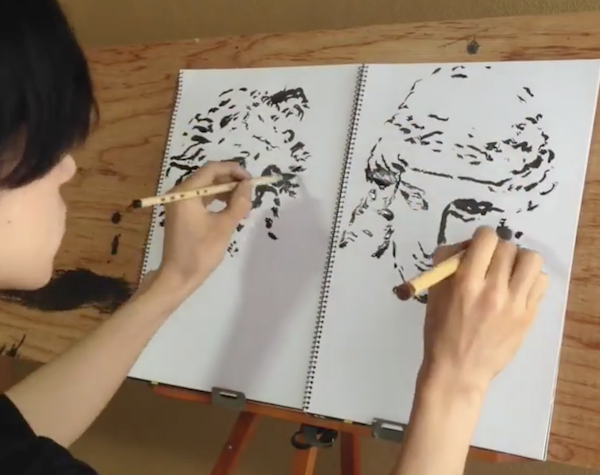 But what are hallmarks of successful organizational ambidexterity? What do companies that have properly implemented this capability differently from those that haven't made it work (yet)?
Hallmarks of ambidextrous organizational designs
Charles O'Reilly and Michael Tushman, two well-known researchers in this field, have recently published their book Lead and Disrupt which condenses the key findings of their longtime work. It can be considered essential reading for all those interested in modern organizational designs and associated leadership requirements. O'Reilly and Tushman delineate organizational ambidexterity as pointed out here:
Organizational ambidexterity is the capability of effectively pursuing strategically important explorative ventures concurrently with executing the established business by means of utilizing a high leverage of core assets and competencies.
An older paper of the authors, titled Organizational Ambidexterity in Action: How Managers Explore and Exploit, already gives a glimpse on some of the book's central findings. Herein, O'Reilly and Tushman attempt to characterize the hallmarks of organizational ambidexterity.  They propose that ambidexterity is more likely to be successful in the presence of the following five conditions:
A compelling strategic intent that intellectually justifies the importance of both exploration and exploitation (P1).
An articulation of a common vision and values that provide for a common identity across the exploitative and exploratory units (P2).
A senior team that explicitly owns the unit's strategy of exploration and exploitation; there is a common-fate reward system; and the strategy is communicated relentlessly (P3).
Separate but aligned organizational architectures (business models, structure, incentives, metrics, and cultures) for the exploratory and exploitative units and targeted integration at both senior and tactical levels to properly leverage organizational assets (P4).
The ability of the senior leadership to tolerate and resolve the tensions arising from separate alignments (P5).
To validate these propositions, interviews with senior managers at fifteen firms that were attempting to manage both exploratory and exploitative units were conducted. The results are displayed in the subsequent tables: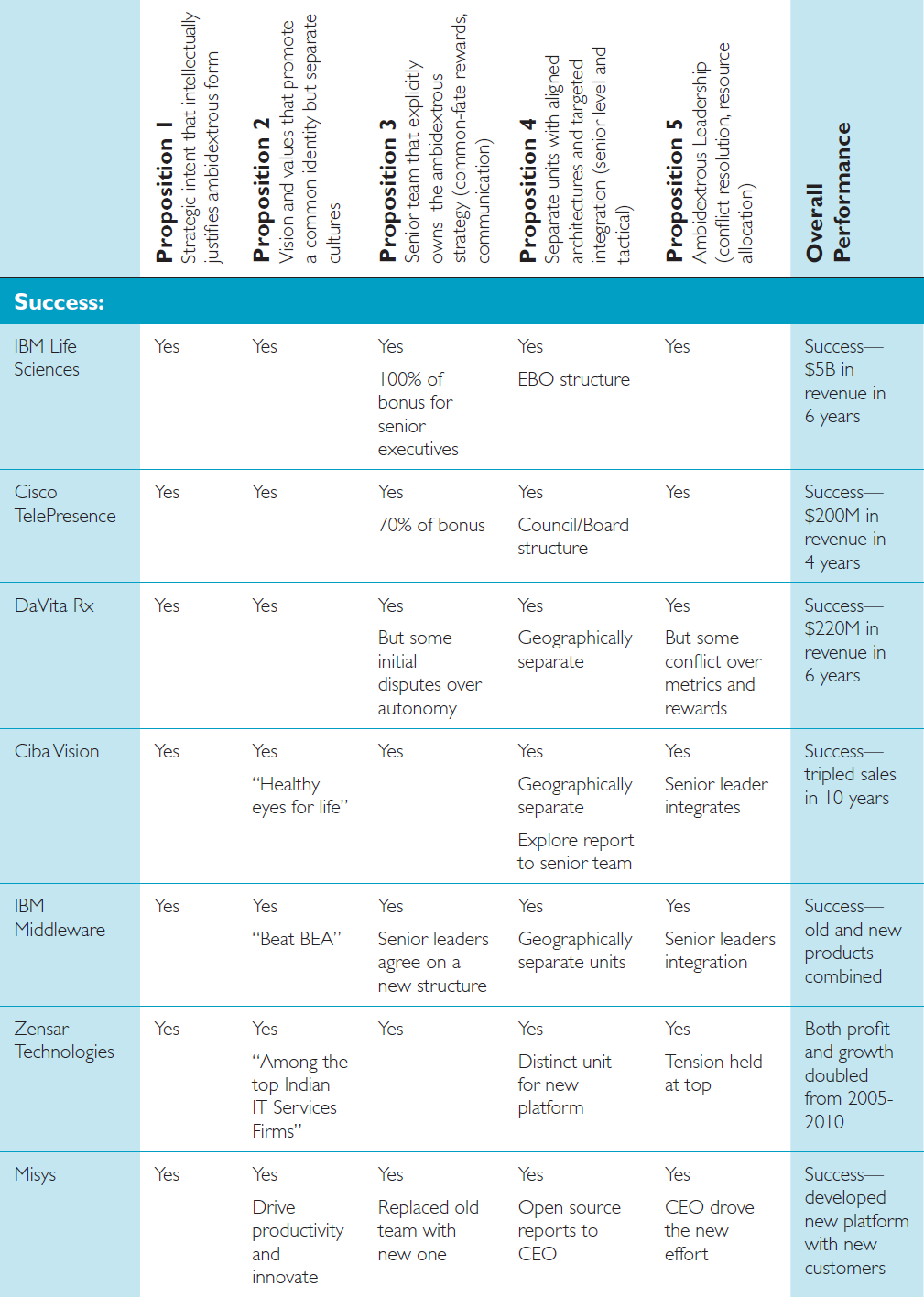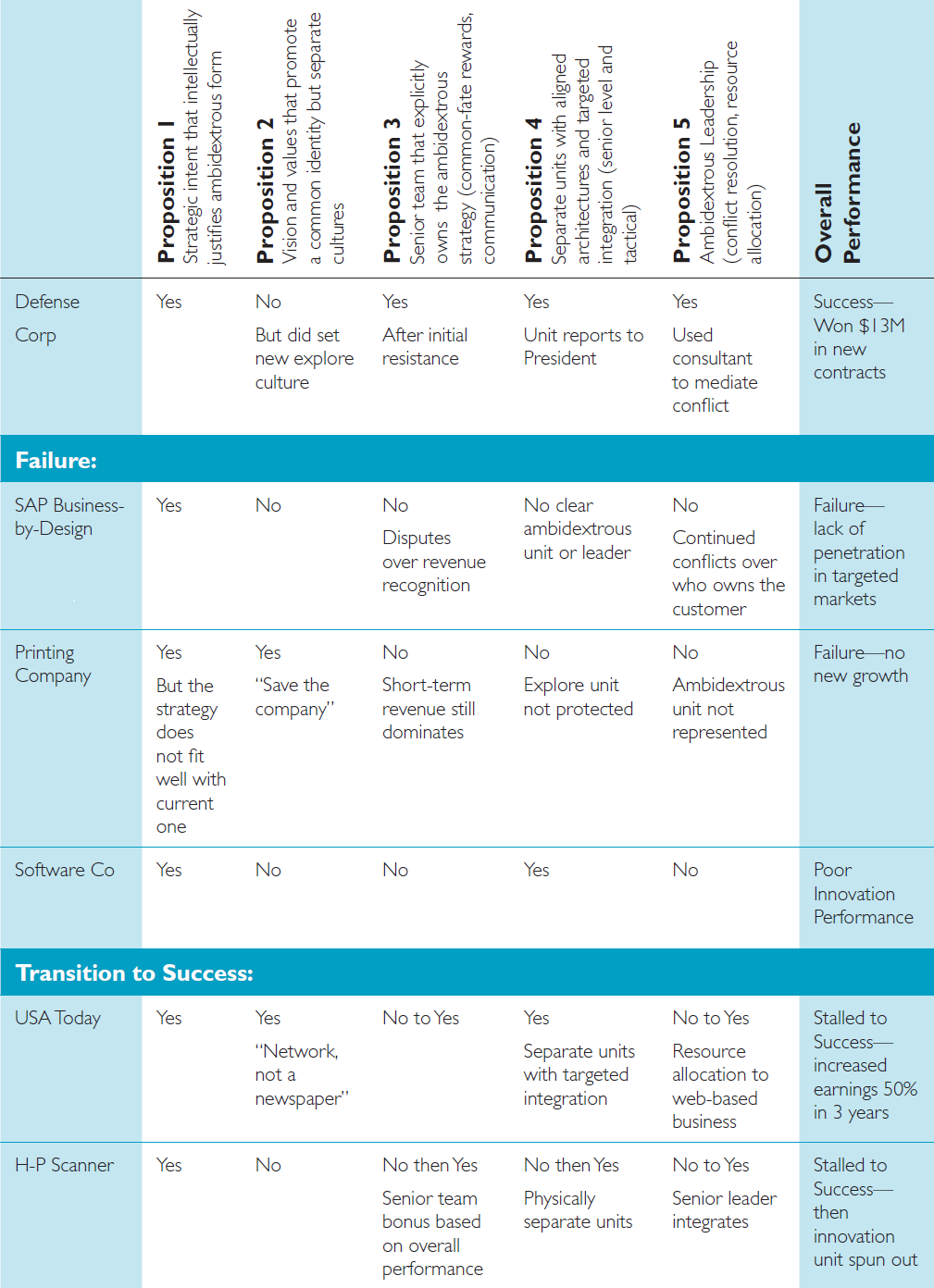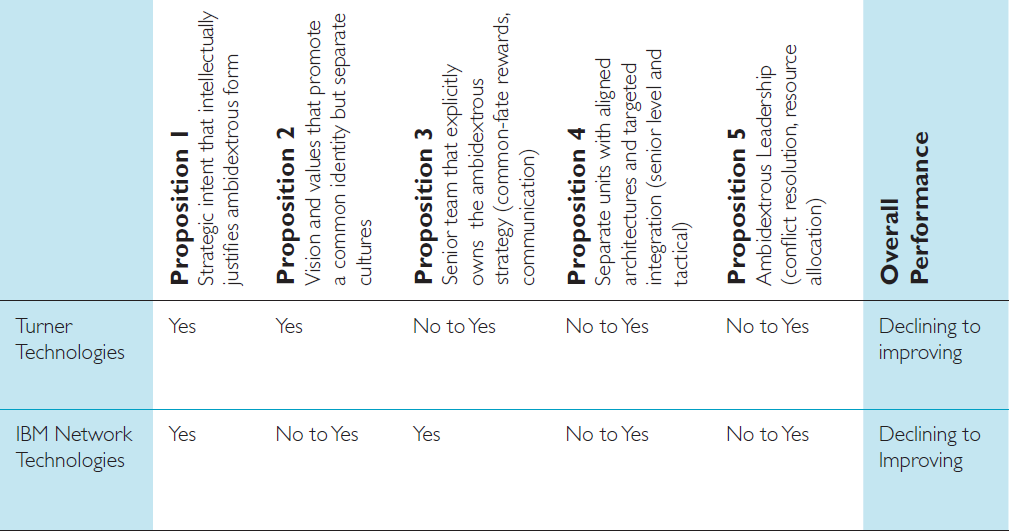 Now, what can be concluded from these findings?
Execution trumps strategy
The results from these fifteen case studies suggest that there are identifiable characteristics that distinguish more- from less-successful ambidextrous designs in action. The most-successful ambidextrous designs meet characteristics P2 – P5 above. Less-successful designs did not employ these core features. While useful, P1 and, to a lesser extent, P2 seem not to differentiate between more- and less-successful designs. This suggests that articulating why organizational ambidexterity is important is not equally important as how it is implemented. Or briefly: Execution trumps strategy.
The most-successful ambidextrous designs had more of these critical ingredients in place  from the beginning. Whereas, those firms that learned how to implement ambidexterity over time, initially struggled with at least two core components and only succeeded after resolving these at last.
O'Reilly and Tushman finally sum up:
These results suggest that effective ambidextrous designs are based on a set of interrelated choices made by the leader. Any subset of the core mechanisms is associated with underperformance. As such, executing ambidextrous designs can be seen as a complex senior leadership task that requires an integrated set of strategic, structural, incentive, and top team process decisions. Clearly, successful ambidextrous designs require more than the simple organizational structural decision in which the exploratory and exploitative subunits are separated. The critical elements, and perhaps the more difficult elements, are the processes by which these units are integrated in a value enhancing way.
Takeaway
Organizational ambidexterity as major precondition for modern dual corporate innovation is first and foremost a leadership issue. For one thing, adequate implementation entails having the right senior leader personalities appointed who have the ability (and willingness) to exhibit ambidextrous, i.e. 'consistently inconsistent' mindset and behavior. For another, it involves making interrelated – often also uncomfortable – decisions on resource allocation and resolving inherent conflicts between camps with disparate alignments. And last but not least: being able to bear the associated personal tensions.
Moreover, consistent execution on the part of leadership and dual organizational setup proves to be more critical for successful implementation of organizational ambidexterity than formulating a well-conceived ambidextrous strategy. This particularly involves the design of adequate interfaces, supposed to integrate separated units to a value-creating degree.
In a nutshell, successful implementation of ambidextrous designs seems to follow the rationale: Act your way into thinking, rather than think your way into acting. If you seek to jumpstart this work in your organization, we are happy to help.
Wait! Before you go…
Choose how you want the latest innovation content delivered to you:
---
Dr. Ralph-Christian Ohr is an Integrative Innovation advisor with extensive experience in  senior management functions for international and national companies based in Switzerland. His particular interest is aimed at organizational and personal capabilities for high innovation performance. Follow him on Twitter @ralph_ohr
NEVER MISS ANOTHER NEWSLETTER!
The "Replicator" machine seen on the "Star Trek: The Next Generation" television series was imagined as a 24th century technology…
Read More
The first book in the world made on blockchain, the first 'decentralized' discussion on leadership, completely shared and co-created with…
Read More